BLOCK WALKING FOR TONY
We need YOU to help us remind voters there's a runoff election that begins Nov. 27!!! We all know the hectic craziness of the holidays; school choir concerts, out of town trips, Thanksgiving feasts, bouts of the flu. Don't let voters forget to vote in this historic runoff election!!
WHEN: Saturday at 1:45 PM – 5 PM
WHERE: 4101 Greenbriar Dr. Suite 100
Houston, TX 77098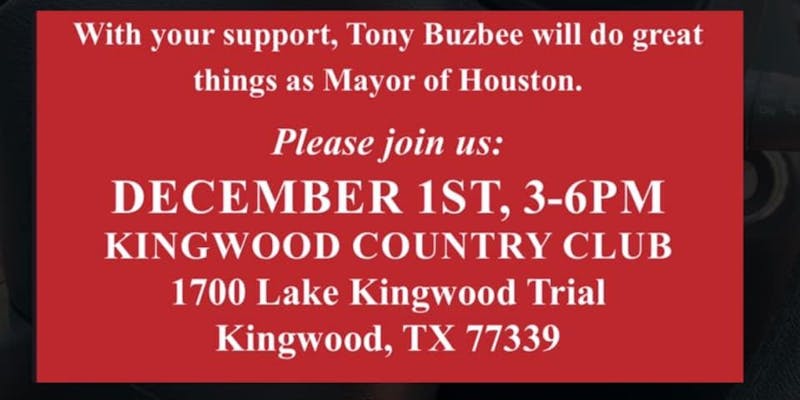 Tickets by: Evenbrite
Come meet mayoral candidate Tony Buzbee on Sunday in Clear Lake. Then make plans to get out and vote on early, December 2-10 at Freeman Branch Library, 16616 Diana Lane, Houston, TX 77062 or any other location across Houston. For the full list of locations, visit www.HarrisVotes.com/earlyvoting.
WHEN: Sunday at 6 PM – 7:30 PM
WHERE: Franca's Real Italian Restaurant 1101 Nasa Pkwy, Houston, Texas 77058
Tickets by: Evenbrite